HOW IS IT ALMOST JULY?!
Guys how is it almost July?! Where has the time gone, I seriously don't get it. The last couple of months feel like a huge blur; traveling, starting projects with new clients, transitioning into being fully freelance, and managing to balance some kind of social life... and here we are July!
I thought I had given a thought to some activities I wanted to do with my friends, but now that actually realizing how much time we have things will need to be revised. Two of my very close friends are arriving TODAY, and I am now fortunate enough to be able to work from home and spend the week with them. We have quite a few things planned, so maybe this can be the start of my summer!
Steph + Chris - Visiting Activities:
Whistler - because it's fun to hang in the village, stroll, and take some cute selfies. Plus they've never been to Vancouver so I always feel like this is a must do.

Sea to Sky Gondola - this is seriously so epic! I brought my mom while she was visiting a few weeks ago and I was amazed by the view on the way up, and the amazing surroundings when you get up there. I do wish the first time I went up I was actually hiking or staying there a while since it's quite costly to take the gondola. But this time around we will be going on a hike and spending a couple hours there which makes it all worth it!

Granville Island - I'm very lucky to live a 15 minute walk away from this cute area, we're able to check out the fresh food market, some local boutiques, maybe even do an art and craft at MAKE, eat some tasty food, sip on some coffees, and enjoy the beautiful music + view. If you haven't been lately it's truly such a relaxing spot!

Hot Springs - this is on the fence since I want us to go to a natural hot spring and the closest one to Vancouver is in Pemberton making the one way drive about 4h10 minutes. It's a little complicated to do in a days time so we may have to hold off on this unfortunutely.

Beaching - We are surrounded by absolutely gorgeous beaches (with as equality beautiful views), so anywhere we go will be wonderful. My favourite is Spanish Banks/Locarno Beach, it's a great spot if you want something more mellow than Kits or English Bay. I'm also super excited to take a dip in the ocean.

Road Trip - we're also heading to Seattle. YAY!! We're only staying overnight but it's only a 3 hour drive from Vancouver so totally doable to leave really early, spend the whole day there and head back the following day early afternoon.

Harry Styles Concert - we also can't be late coming back from Seattle since were also going to see the gorgeous Harry Styles perform while he's in town. I can't wait!

Maybe I should also make a list of some other things people can do if they are visiting Vancouver! What do you think?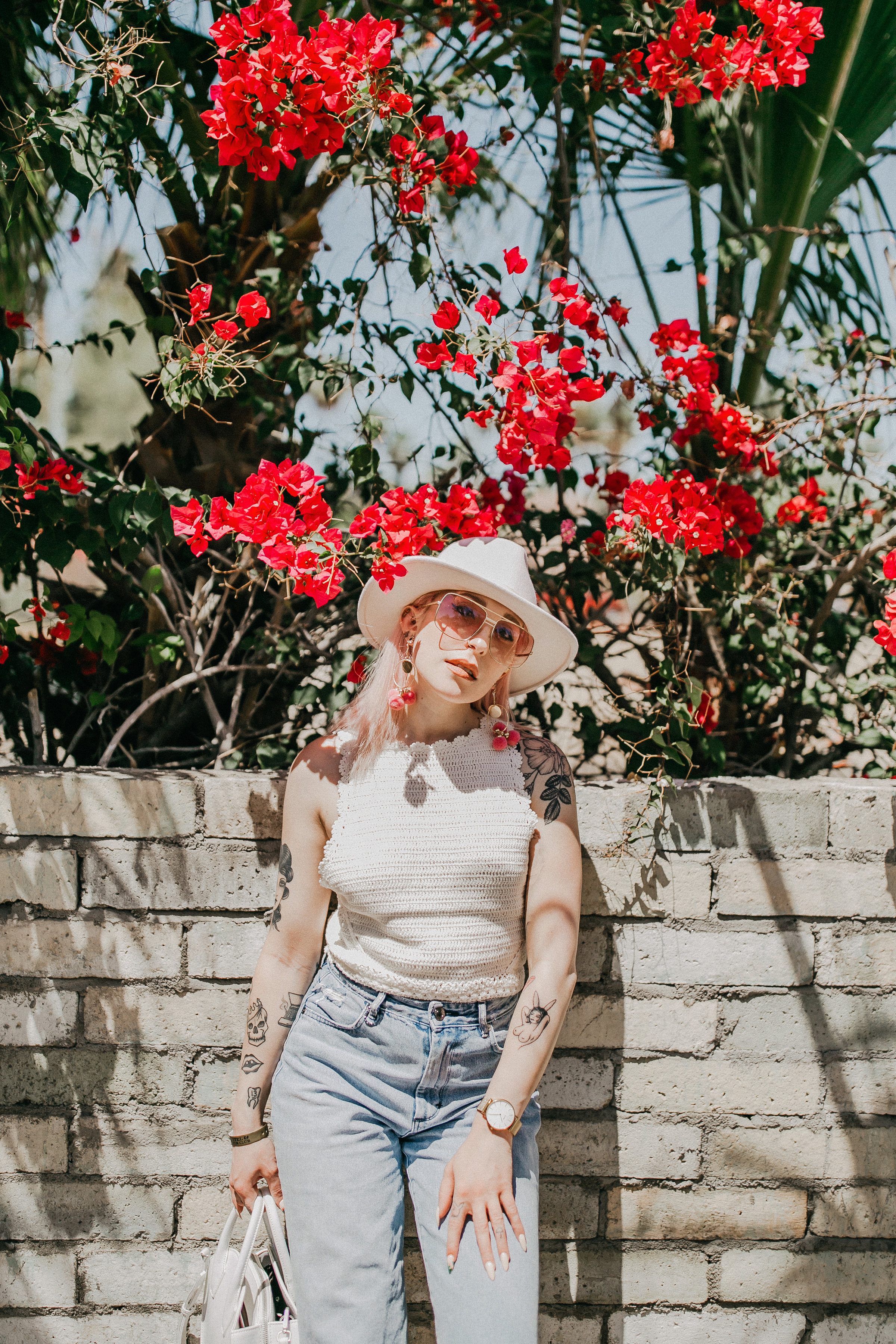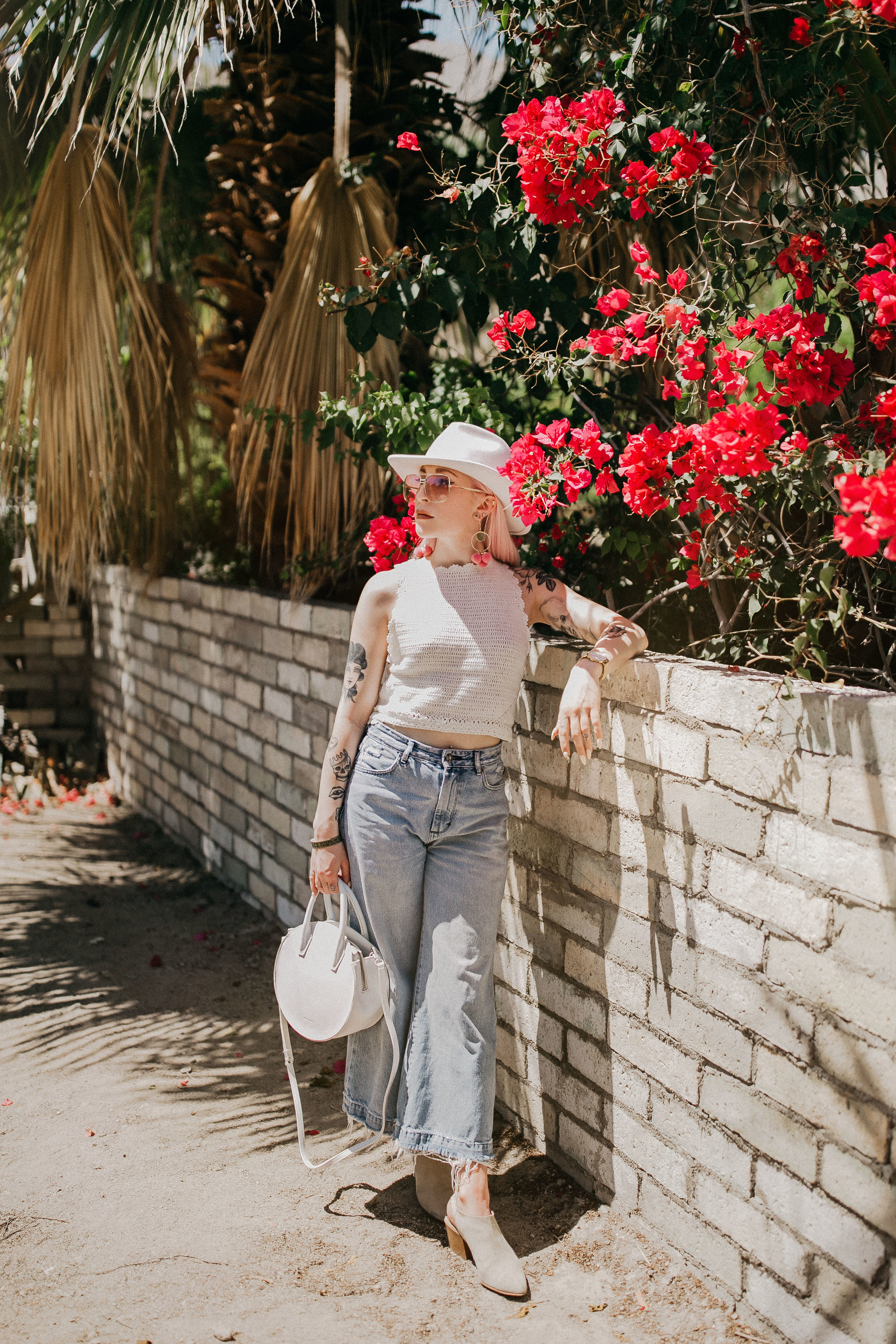 White Structured Hat - San Diego Hat Company,
Crochet Top - DEX Clothing, Wide Leg Denim - Neuw,
Sunglasses - Celine, Pompom Hoop Earrings - Target,
Pleather Circle Purse - Matt & Nat, Watch - Cluse,
Suede Boots - Aldo